I predicted fun and exciting racing, and that's exactly what we got. Over Labour Weekend I went back to where it all began for me in the multisport world, and took on the Hard Labour event in Twizel. You can read here all about what happened on my multisport debut last year!
It's a superbly organised event with a friendly atmosphere in a stunning location, and I'd recommend it to competitors of all levels. It's a great opportunity to get your race face on early in the season, and iron out a few kinks in preparation for races like Red Bull Defiance and the Kathmandu Coast to Coast.
Aoraki looking fabulous on the way to Twizel.
Steve Skinner Canal Kayak
The re-birth of the canal kayak race after a long hiatus can be attributed to the passion and hard work of Steve Skinner. Steve, an enthusiastic multisporter and active member of the Twizel community, was tragically killed in an accident in 2015. The canal kayak was re-named in his memory and it was lovely to have his dedication remembered during the race briefing. Hopefully there's enough support for the full kayak marathon to run next year - it would be great to see Steve's vision unfold!
Waiting for the starting gun. Photo credit: Meridian Twizel Hard Labour weekend official Facebook page.
Last year I had been training in a beautiful Rockstar, but unfortunately it was unavailable for race day. This year, about 3 weeks prior to Labour weekend, as a result of pure luck and asking the right people the right questions, I purchased my very own Rockstar. And immediately fell in love! It has a comfy seat, and just the right combination of speed and stability. So in a stark contrast to last year, I was feeling quite comfortable on the water and more than happy to get amongst the washing machine of turbulent boat wash on the start line.
Coach Karen (Fit for Life) had instructed "treat it as a good training weekend without blowing yourself up, focus on pacing, finish feeling strong". So when I found myself paddling neck and neck with kick ass multisporter Alex Martin, I thought "Uh oh, I hope she doesn't want to go much faster." Or I was most definitely going to blow myself up trying to stay with her. I put all my focus into keeping a good form and paddling strong - instead of the "beached octopus" style of flailing arms and lots of splash that often happens when I get tired.
Through a total coincidence I ended up paddling a good chunk of the race with my ole pal Rhys again. I met Rhys during the kayak race at Hard Labour last year when we worked together, taking turns drafting on the water, then helping to carry eachothers kayaks on the 2 portages. I had spoken with Rhys only a couple of weeks prior and I was told a definite no when I asked him if he would be racing at Hard Labour. So I was astounded, and stoked, to spot his orange-tipped Rockstar up ahead of me on Lake Ruataniwha.
Paddling with Rhys in 2016. Photo credit: Sarah Payne.
Alex and I also had a good little tuss on the lake and down the canal. I tried several times to put some water between us - tried washriding a couple of guys that came past, and tried picking my own line when I thought she was meandering along the lake. But it seemed that neither of us could shake the other! We took turns paddling out in front on the 7 kilometre section between the 2 portages, with the other taking a breather in behind. In terms of race strategy there's nothing wrong with getting a free ride just to put the sprint on at the end and take the win. But personally I find it much more enjoyable when it's a fair race between us ladies and everyone shares the work. As Alex said, "I feel guilty if I sit behind you too long. Not with the guys though, I would draft off the boys all day if I could." Amen sister!
I had learned from my experience last year that making friends on the water is an important part of the race strategy. While I'd picked up a few portaging tricks from carrying surf skis during my stint in Nelson, having two people to share the load is still by far the fastest and easiest way to negotiate the portages. This strategy paid off and helped me take top female spot in the kayak race. My beloved Rockstar made my paddling gold medal hopes from 2016 come true!!
Coming into the finish line! Photo credit: Nicola Graham
Dusky Trail Mountain Bike
Besides not blowing myself up, one of my main goals for the weekend was to recover well. In recent weeks I'd been struggling to keep sufficiently hydrated which led to headaches, and prolonged my recovery during the days after the event or training session. This time I was on Mission Hydrate - it was water, electrolytes, and more water (and bean burritos) for lunch.
Panoramic view of the Ruataniwha Conservation Park, and the Dusky trail.
The sun had broken through the clouds by midday and it was turning into a scorcher - just in time for a blast on the mountain bike. There were a few mechanical issues within our crew that required some quick thinking and quick action. I had arrived in Twizel the night before to find that the front wheel on my mountain bike had a broken spoke, and I didn't fancy riding on the rough course with a wobbly wheel. A few options were thrown around - borrow someone else's wheel (and just like Cinderella's slipper, it was a perfect fit), borrow someone else's spare bike (a spare bike for a race, what a luxury!), or try my luck at getting it fixed in the morning at the bike store in Twizel (while I was in the middle of a kayak race). My good pal and absolute weapon on a bike, Waz, came to my rescue, and worked his magic and charm with the man in the bike shop to have a fully functional wheel ready for me in the afternoon. Thanks Waz!! Jordan had some troubles of his own - discovering a flat tyre as we were leaving for race briefing. He made a quick dash to trusty Jake's Hardware for an inner tube, then with a bit of teamwork we speedily fixed the puncture, in a time that would rival the F1 pitstops!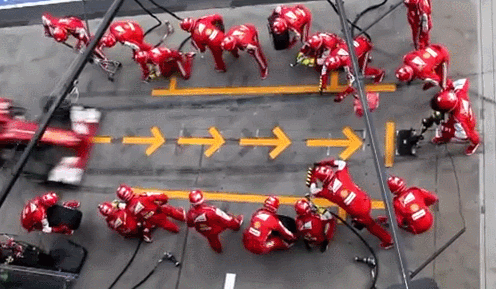 My own advice was ringing in my ears "don't be fooled into going out too hard too early" as I took off like the Mad Hatter from the mountain bike start line. All the excitement pre-race had built up and I was finally letting loose.
Taking off like Mad Hatters from the start line. Photo credit: Meridian Twizel Hard Labour weekend official Facebook page.
Unfortunately all that excitement only lasted about 10 minutes! On the "hard tail hell" climb from the road beside the canal into the foothills, my legs were already cooked and I was passed by both Hannah Buchanan and Lucy Murray...and didn't see them again until the finish line! Now, don't get me wrong, I am competitive. So yes, this was not ideal. And in recent years this might have sent me to a dark place. But a lot has changed in the past 12 months - a new 'why' for training and racing - and these ladies are both superstar athletes and strong riders, so I just carried on racing my own little race. I knew that with every climb there was a rewarding downhill waiting at the top...this was the dangling carrot to encourage my legs to keep pedaling.
Most of the Dusky MTB course is on DOC land and is great to explore at adventure pace too.
At the river crossing before the last little climb up to the Pyramid saddle the marshall said, "You're the third woman." I thought "No, you must have missed some of the top women." Normally on these races there are people that just turn up for the bike race ie. don't enter the full Hard Labour event. You have a fair idea of the other Hard Labourers that you're up against from the kayak results in the morning, but there are usually some gun mountain bikers that come along and blow us multisport competitors out of the water. This year it turns out there was just one, yep that's you Lucy Murray! The final kilometres were spent pedaling madly and trying not to get passed by any more female riders, which I did successfully and finished up 3rd female.
Always a wonderful sight - the finish line. Photo credit: Meridian Twizel Hard Labour weekend official Facebook page.
Most of the crew at the bach we were staying at in Twizel weren't actually racing. They were still getting out and about, training and adventuring, but unlike the 3 of us committed Hard Labourers they didn't have race briefings to attend, start times to make, and results that are on the internet forever to worry about. Needless to say their schedule and recovery techniques were a little more relaxed. Jordan and I got sucked into these relaxed recovery techniques .... this included a few glasses of delicious red wine with dinner, then a few more beverages at the pub later on while watching the All Blacks go down to the Wallabies. Needless to say we were a bit foggy sitting down for our pre-race breakfast the next morning. But it was great to catch up with old friends, and meet new ones!
Pyramid Half Marathon
This time I didn't get caught up in the excitement off the start line and headed out at my own pace - yes, actually! I took the time to wake up my groggy legs along the flat, preparing for the climb up to the Pyramid saddle. The climb went a bit like this - "keep running it's not that steep, look there's a flat bit just up there...OK it's not that flat, but keep running anyway...ugh look at that big steep bit up there, no don't worry about it just keep running...yes, you got this...OK nope I'm out, I'm walking."
Looking towards the start of the climb to Pyramid saddle. Photo credit: Meridian Twizel Hard Labour weekend official Facebook page.
There was a headwind battering us as we climbed, but as we popped over the saddle we were blasted by its full force, wanting to push us all the way back to where we'd come from. But it became a tailwind after the river crossing at the top, and it made for a lovely run down the false flat we had climbed on the bikes the previous day. The combination of the slight downhill and the strong tailwind basically meant all you had to do was lift your feet off the ground and you were moving swiftly toward the finish line. Well, as swiftly as my tired, stubborn legs would take me. The finish line turned up just in time, just as I was starting to crave a couple more slices of peanut butter and banana on toast.
Overall Hard Labourers
Hannah Buchanan took out the overall female Hard Labourer title (and 5th overall overall!) while I came in a few more minutes behind, and kick ass Alex in 3rd. Hannah B is a fabulous friend, and we actually met at the race in 2016! The fact that we were staying in the same bach made for some amusing banter. Who won that one? Hannah did. Who's going to take it out? Hannah will. OK maybe you had to be there! No doubt about it, we're both competitive but these sisters are doing it for themselves and we still love to celebrate each others successes (...ideally with wine!)
Hannah B and Hannah J celebrate a successful weekend. Photo credit: Simon Jones.
And last but not least - PRIZES!
After a wonderful haul of spot prizes in 2016 (tasty wine, delicious locally made honey, funky socks, Mt Cook Alpine Salmon, and more wine) there was no way we were going to miss a prizegiving this year. And again, we were not disappointed. We had great success!
We all came away with spot prizes - from the wacky to the wonderful, plus a few pots of honey each for placing in events. Word is that Hannah B has only just finished her honey from last year, so the 3 pots she won this time should keep her going for a while!
Thanks to Bells Honey and Tekapo Springs for the placing prizes. And a MASSIVE thank you to Lakestone Lodge for their amazing spot prize. I'm looking forward to indulging in some luxury after a big adventure in the Mackenzie region over the next few months. And I'm also looking forward to being a Hard Labourer again in 2018!